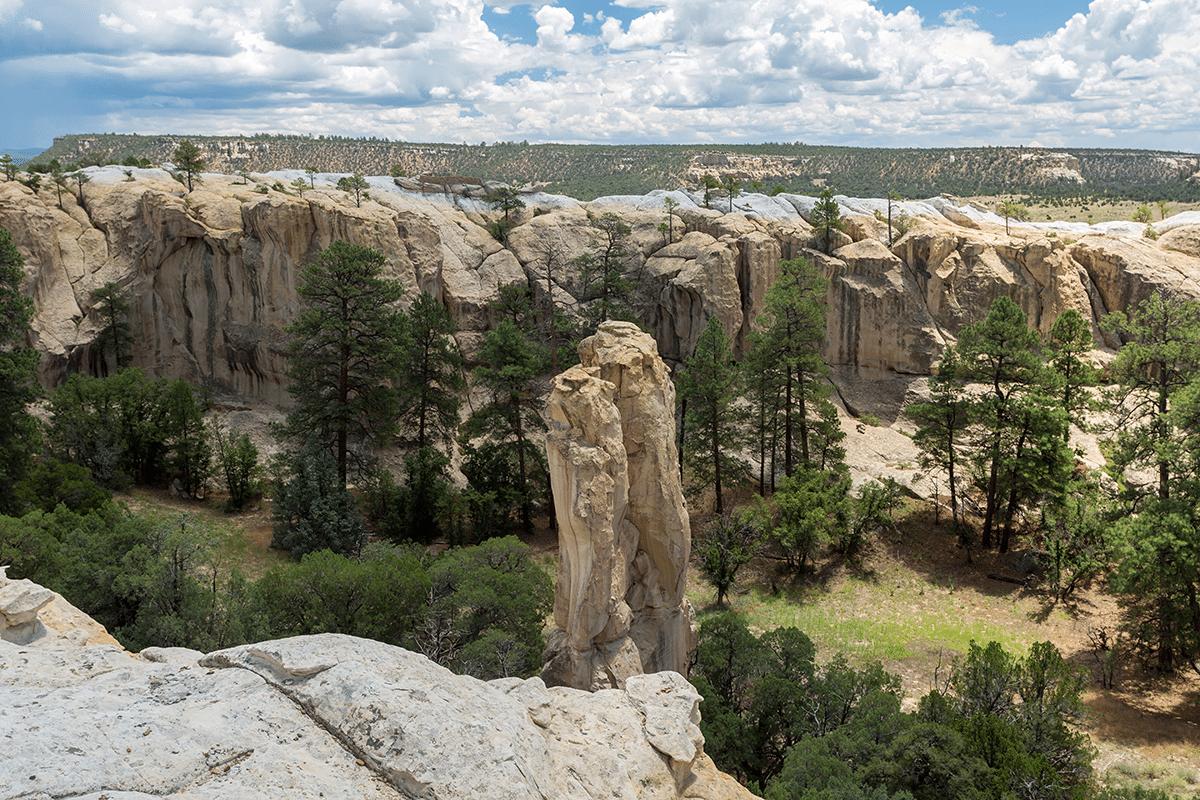 Can you imagine traveling back in time a thousand years or more? A visit to El Morro National Monument can take you there. Explore history at El Morro National Monument in New Mexico.
This National Monument was given this status by President Roosevelt in 1906 to help preserve and protect all the petroglyphs, pictographs, and inscriptions that have been made over hundreds of years.
What you will see at El Morro National Monument
A walk through these lands is one following in footprints made by ancient Puebloans, conquistadores from Spain, and the pioneers of America – all in a single day. El Morro is a living record of history etched into the rock. Your self-tour will walk you past these markings along the Inscription Loop by El Morro, the moniker of the park, named by the Spaniards.
But long before Spain's conquistadors came here, the Puebloans built their homes here. At the top of this bluff, they were strategically placed – at the bottom, the only potable water source in 20 miles.
You'll climb about 200 feet on Headland Trail to one of two pueblos located on the canyon's rim. From the late 13th century to the mid-14th, the pueblo was flourishing. It had more than 300 rooms with a courtyard in the center. You can walk the perimeter of the nearly 20 rooms that have since been excavated. Imagine the buzz around the pueblo when around 500 Puebloans called this home, all working together.
You'll enjoy panoramic vistas across the valley. When you make your descent – check out the holds this people carved out for their hands and feet to make their own descent down to the water below. These people carved images of sheep, bears, and humans throughout the sandstone. The Puebloans' descendants consider this place sacred, calling it A'ts'ina, the place of rock carvings.
Inscription Rock at El Morro
When the Spaniards arrived, they were also infatuated with the pool of water and the innumerable carvings. Fifteen years prior to the Mayflower's landing upon Plymouth Rock, the Spanish inscribed to mark the visit of famous conquistador, Don Juan de Onate, in 1605.
It would be over 200 years before El Morro would really gain notoriety. An army engineer and an artist gave descriptions of El Morro's many inscriptions. After this, Americans who found themselves passing through the region would all add their own inscriptions to what is now known as Inscription Rock at El Morro.
Want to plan your trip and explore history at El Morro National Monument in New Mexico? You can visit the website and contact the park for details.