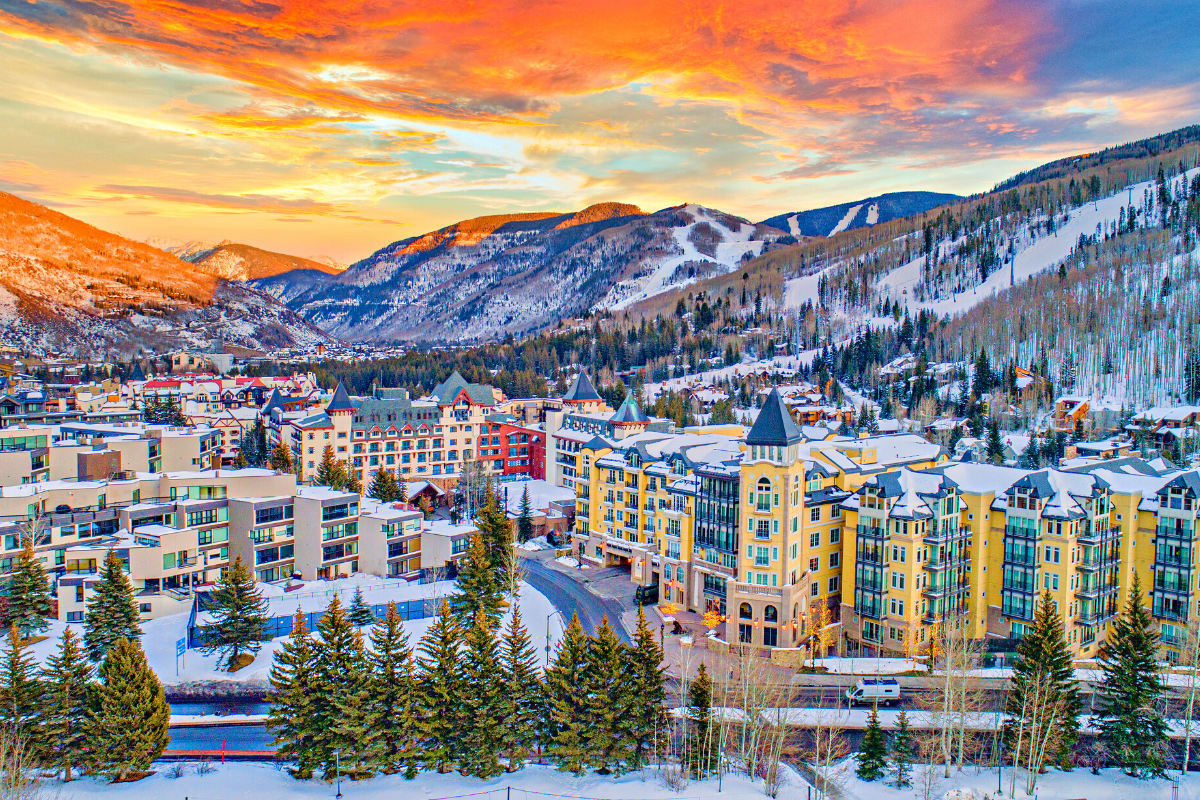 Searching for the best places for winter getaways in Colorado? Colorado immediately conjures images of the snowcapped Rockies, skiing, and warming up with some hot cider in front of the fire at a posh ski resort. If this sounds like heaven to you, Vail must be at the top of your winter destination bucket list.
The perfect just-outside-Denver getaway, Vail is a tiny town amongst the world's favorite ski destinations. Vail has more than 5,000 acres of ski slopes surrounded by over 300,000 acres of pristine, pine forest and incredible mountainous backdrops. This little town has everything you need for that winter vacation to remember.
Vail is located in the foothills of the Vail Mountains and looks just like a town you'd imagine seeing on the front of a box of chocolates. Aside from skiing, ice skating, and other snow-filled activities for every skill level, you'll also find unmatched shopping, dining, and accommodations.
Maybe you're not quite the get-up-and-go-for-the-snow type – that's okay! There's a lot more than just energetic activities here. Consider strolling along the heated, cobblestoned streets of the village, through Lionshead or Golden Park – you'll be amazed at every turn by the breathtaking scenery. If you're an Instagrammer, you won't be able to take your finger off the shutter button. Spending just a few days here might just be the best winter vacation you've ever had.
Aside from chocolate box towns in winter, how about a town that's the epitome of the mountain village postcard? You'll find it just a hair outside Vail to the west – Beaver Creek. Here you'll find the Beaver Creek Resort. Each December, athletes and onlookers flock here to participate in or watch one of the most premier skiing events in the world.
Beaver Creek has around 1,800 acres of everything from gentle, "bunny" slopes to steep, thrill hills – something for every skiing skill level. But the best part is that this picture-perfect village is much more than just skiing or other snow-filled activities. There's a children's museum and performing arts center, as well as several trails to hike the edges of Beaver Creek, so everyone in your party will find something amusing. Plus, there are several cafes and diners with various types of fare. Not enough to seal the deal? You can see the Rockies from literally everywhere in Beaver Creek.
Travel to the Vail area to visit the best places for winter getaways in Colorado. See you on the slopes!