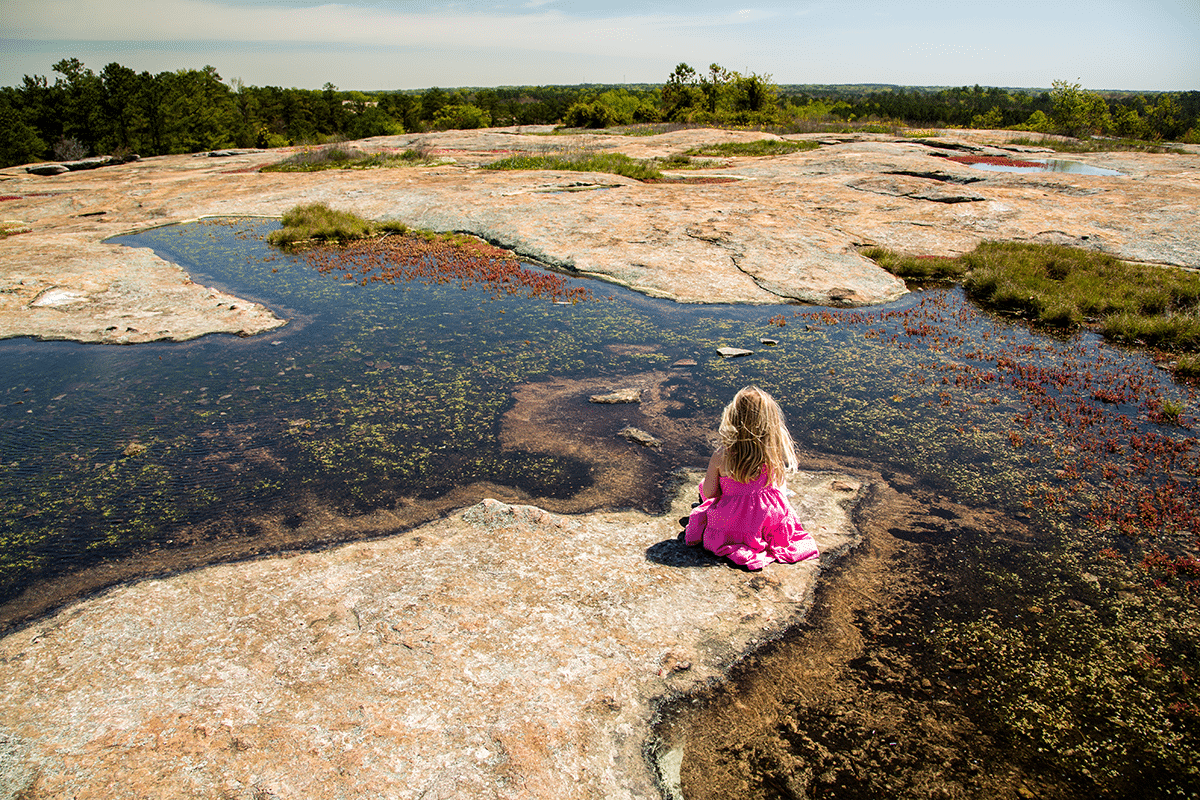 Arabia Mountain National Heritage Area is a natural wonder with a compelling history. Imagine exploring an area that took over 400 millions years to become the beauty it is today, such as Arabia Mountain National Heritage Area in Atlanta, Georgia.
Where is Arabia Mountain National Heritage Area?
Arabia Mountain National Heritage Area is just outside of Atlanta, Georgia on the I-20. The skyline is blocked by two huge granite outcroppings, Arabia Mountain is a natural wonder with a compelling history. Offering heart-pumping action and unimaginable beauty, come see all the unique cultural shifts from the region's earliest settlers to its immigrants who carved the stone, to newly freed slaves and the Trappist monks who built the area's beautiful monastery by hand.
Why visit Arabia Mountain National Heritage Area?
The natural beauty of Arabia Mountain literally speaks to your soul. There are more than 2,000 acres of preserve, dotted with historic buildings. The Monastery was built for the area's people and its doors have always been open. In 2011, the Trappist monks transformed a nearby historic barn into the Monastic Heritage Center. At the center you'll find numerous exhibits, a greenhouse with renowned bonsai trees, and the largest monastic bookstore in the region. When you arrive at the Monastery's Visitor Center, you'll be greeted with a video about the area's long history and of monks through the ages, and what caused these specific monks to choose Georgia to be their home back in 1944.
These monks' greatest achievement was building the Cloister and the monastic Abbey Church. They poured the concrete themselves and created an architectural marvel. It's even been named the Most Remarkable Building of Concrete in Georgia, and a special slideshow illustrates all there is to offer. The Visitor's Center is open every day but Sunday from 10 am to 5 pm. Be sure to call ahead prior to your visit to ensure operations are normal.
There is much more, though, at Arabia Mountain, such as AMP, the 33-mile mountain trail. Here there are plenty of activities to keep your heart pumping, such as walking and hiking, cycling and jogging on this multi-use trail. The path hugs the surrounding landscapes and takes you through stunning vistas and by some of the most incredible historical landmarks in the area. You'll find once you begin the trail that each curve tugs at your heart, begging you to see what's up ahead. To plan your visit before you arrive, download the Arabia Mountain Path map.
The path perfectly links every piece of history, ecology, and culture throughout this national heritage area. Some of the most precious things you'll see include the monastery, a historic homestead (the oldest in the region), and more. In all, there are over 20 sites.